Office of the President
Tuskegee University Bestows President David Wilson With Honorary Degree During 2020-2021 Commencement Ceremony
On Sunday, May 30, Tuskegee University hosted its largest spring commencement ceremony in university history at the Cramton Bowl in Montgomery, Alabama. Families and friends gathered to celebrate more than 800 graduates from the classes of 2020 and 2021. The weather was perfect, and the mood was jubilant. Included among the many being honored on the historic day was none other than Morgan State University President David Wilson.
During the ceremony, Dr. Wilson, a Tuskegee graduate from the classes of '77 and '79, was presented by the university and its Board of Trustees with the honorary degree, Doctor of Humane Letters. Wilson, who holds multiple degrees from both Tuskegee and Harvard University, beamed with pride throughout the occasion.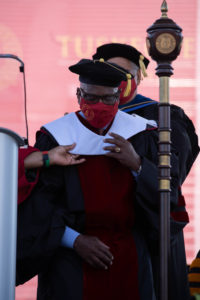 "It is an extreme honor and a privilege to receive an honorary degree from my alma mater – the very institution that took a chance on me, taking me from humble beginnings to introducing me to a world of opportunities that awaited through acquiring a college education," said President Wilson. "Tuskegee University holds a very special place in my heart and to be back on the campus, once again upon a stage that I crossed so many years ago, it is an experience that I shall forever hold dear. Among the various degrees and recognitions that I have accumulated throughout my career in higher education, this honorary Doctorate of Humane Letters will be the most cherished."
The university was also happy to recognize a native son that has accomplished much with his Tuskegee education, amassing a credentialed and celebrated career as one of the foremost voices in higher education leadership.
"Our Alma Mater is proud to honor your life, your accomplishments, and your contributions. During every leadership experience, you have demonstrated compassion and resolve, wisdom and understanding, integrity and commitment," said Dr. Charlotte P. Morris, interim president, Tuskegee University. "We salute your dignity, your grace, your wit, and your strength."
A true, higher education executive, scholar and thought leader, Wilson is author of two books and many articles, and has received numerous honors and awards, including one of the nation's top 100 leaders in higher education by the American Association of Higher Education.
Wilson has served as President of Morgan State University since 2010, and prior to that as chancellor at both The University of Wisconsin Colleges and The University of Wisconsin-Extension.
Congratulations to President David K. Wilson on this achievement!
Contact Information
---
Office of Public Relations & Strategic Communications
1700 East Cold Spring Lane
McMechen Hall Rm. 635
Baltimore, Maryland 21251