Newsroom Featured
President David Wilson Appoints New Administrator to Lead Morgan State University's Division of Institutional Advancement
Donna Howard Named as Morgan's Vice President for Institutional Advancement and Executive Director of the Morgan State University Foundation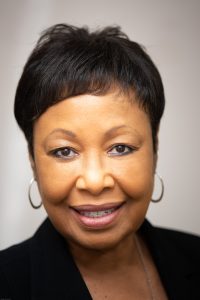 Morgan State University (MSU) President David Wilson has announced the appointment of Donna J. Howard, CFRE, as the university's new vice president for Institutional Advancement and executive director for the Morgan State University Foundation, Inc. The announcement comes after a nearly yearlong national search, led by a selection committee in collaboration with an executive search firm. With the appointment, Howard will oversee operations for the University's Division of Institutional Advancement, which includes the Offices of Alumni Relations, Development, and Public Relations and Strategic Communications, in addition to the MSU Foundation.
"I commend the selection committee for its diligent and exhaustive work to find just the right candidate to fill this vital position at the University," said Dr. Wilson. "And as is sometimes the case when it comes to an undertaking of this kind, you may not have to look very far. Donna Howard made the most of her opportunity as the interim vice president, leaving an impression that was hard to ignore. She brings a wealth of fundraising knowledge and more than two decades of results-driven experience to this role. As we move forward in meeting the future financial goals for our University, I eagerly anticipate what we can accomplish together under her leadership."
Howard was instrumental in enabling Morgan to complete its Anniversary Campaign, the largest such effort in the University's 150-year history. The campaign, which attracted more than 13,000 donors, successfully raised $254 million in public and private funds. Also, during her seven-year tenure as director of Development at the university, Morgan saw its alumni participation-in-giving rate elevate to an impressive 17 percent, higher than at many private HBCUs and public regional institutions nationwide.
In her new capacity as Morgan's vice president for Institutional Advancement, in addition to leading a combined staff of nearly 40 people, Howard will be responsible for overseeing the university's fundraising, marketing and communications, which includes managing campaigns, special events, the annual fund, major and planned gifts, corporate and foundation relations, constituent relations, prospect management, gift processing and acknowledgement, strategic communications and publications. She will serve as a member of the university's leadership team and will work closely with the president, the Board of Regents, the Foundation Board, other senior administrators, faculty and staff to achieve Morgan State University's strategic goals.
"I'm inspired by Morgan's history and mission and extremely excited to have been selected to lead the university's fundraising and external communications priorities," said Howard. "The university has a special place in my heart, primarily because of the wonderful alumni and friends I've had the privilege to meet along the way. I look forward to continuing to work with Morgan's visionary leadership with a clear commitment to advancing philanthropy and growth."
President Wilson appointed Howard as the interim vice president for Institutional Advancement in January 2019, after the retirement of Cheryl Y. Hitchcock, who resigned from Morgan after nearly 19 years of service. Before assuming the interim role, Howard served as the assistant vice president for Development under Hitchcock, raising support for scholarships and student success initiatives, teaching and learning programs and activities, and community outreach.
Before coming to Morgan in December 2011, Howard built her higher education experience at the New England Conservatory of Music, Cheyney University of Pennsylvania and the University of Maryland School of Social Work, where she served as the director of annual giving and alumni relations, director of annual giving and director of development, respectively. Outside of her work in higher education, she served in fundraising and public relations roles at the United Negro College Fund, the Massachusetts Audubon Society and the Metropolitan Area Planning Council in Boston. She is also a former member of the Maryland Board of Directors for the House of Ruth.
Howard received her B.A. in Non-profit Marketing, magna cum laude, from the University of Massachusetts at Amherst. Her appointment as Morgan's vice president for Institutional Advancement is effective July 1, 2019, and she will report directly to the president.
The Division of Institutional Advancement is committed to informing, engaging, partnering with and securing financial support from a diverse spectrum of audiences through strategically aligned communications, engagement initiatives and philanthropic opportunities. It is charged with the task of building lifelong relationships that engage the time, loyalty and intellectual and financial resources of individuals and institutions in support of Morgan's mission, goals and aspirations.
About Morgan
Morgan State University, founded in 1867, is a Carnegie-classified doctoral research institution offering more than 125 academic programs leading to degrees from the baccalaureate to the doctorate. As Maryland's Preeminent Public Urban Research University, Morgan serves a multiethnic and multiracial student body and seeks to ensure that the doors of higher education are opened as wide as possible to as many as possible. For more information about Morgan State University, visit www.morgan.edu.
MEDIA CONTACT(S):
Larry Jones or Dell Jackson, University PR
(443) 885-3022
Contact Information
---
Office of Public Relations & Strategic Communications
1700 East Cold Spring Lane
McMechen Hall Rm. 635
Baltimore, Maryland 21251