Students
Morgan State University and The Wall Street Journal Announce Partnership to Prepare Students for 21st Century Journalism
Exchange Program to Provide Practical Experience Beyond Classroom and Cultivate Pipeline of Diverse Talent
Morgan State University's School of Global Journalism and Communication (SGJC) is partnering with The Wall Street Journal (WSJ) to provide business-journalism exposure to students, support SGJC faculty with tools and information to use in the classroom and to provide insight into the professional skills and reporting experiences the Journal seeks in recruiting and hiring. Launching Spring 2019, the Wall Street Journal-Morgan State Business Journalism Exchange Program meets two critical missions of both entities. The partnership reinforces SGJC's mission to prepare students for 21st century journalism with practical training and experience, as well as a strong academic background. Building on a longstanding commitment to training, outreach and diversity is the cornerstone of WSJ's stewardship of the program.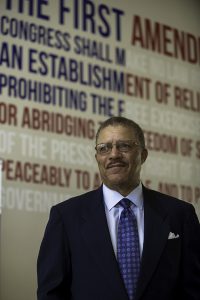 "As a founding member and former president of the National Association of Black Journalists, I have a deep appreciation for the need to move beyond talk, to action, when it comes to newsroom diversity, said DeWayne Wickham, dean of the School of Global Journalism & Communication at Morgan State University. "In initiating a partnership with Morgan's School of Global Journalism and Communication, The Wall Street Journal speaks with a voice that rises above the din of those media companies whose talk about diversity doesn't match their action."
The partnership will involve an exchange of classroom instruction, mentoring and newsroom visits for a selection of students and faculty, both in New York and on Morgan's campus in Baltimore. SGJC faculty will have access to select Journal newsroom training sessions, and one faculty member will be embedded in the newsroom during the summer. WSJ professionals will serve as mentors, facilitate training sessions and assist with programming as part of the newsroom visits.
"We couldn't be more excited to partner with Morgan State," said Matt Murray, editor-in-chief of The Wall Street Journal. "The partnership certainly reflects our commitment to creating real opportunities that bring greater diversity to the Journal and journalism, as well as our interest in helping train the journalists of tomorrow. Most of all, we're excited because there are so many great stories to tell and so much important work to do, and we can't wait to see what these journalists do."
About the School of Global Journalism & Communication
The School of Global Journalism & Communication, created in July 2013, is led by founding Dean DeWayne Wickham, a former columnist for USA TODAY and a founding member and former president of the National Association of Black Journalists. The school is dedicated to giving voice to people who struggle to contribute to the public discourse that shapes the nation and the world through innovative teaching, cutting-edge research and exemplary service to Maryland, the nation and the world. The school seeks to instill students with the skills, knowledge and training necessary to become effective communicators and to add to the diversity of thought in the media.
About Morgan State
Morgan State University, founded in 1867, is a Carnegie-classified doctoral research institution offering more than 100 academic programs leading to degrees from the baccalaureate to the doctorate. As Maryland's Preeminent Public Urban Research University, Morgan serves a multiethnic and multiracial student body and seeks to ensure that the doors of higher education are opened as wide as possible to as many as possible. For more information about Morgan State University, visit www.morgan.edu.
# # #
MEDIA CONTACT(S):
Jacqueline Jones, for SGJC
443-885-3502 (office)
202-271-6890 (cell)
Larry Jones or Dell Jackson, University PR
(443) 885-3022
Contact Information
---
Office of Public Relations & Strategic Communications
1700 East Cold Spring Lane
McMechen Hall Rm. 635
Baltimore, Maryland 21251